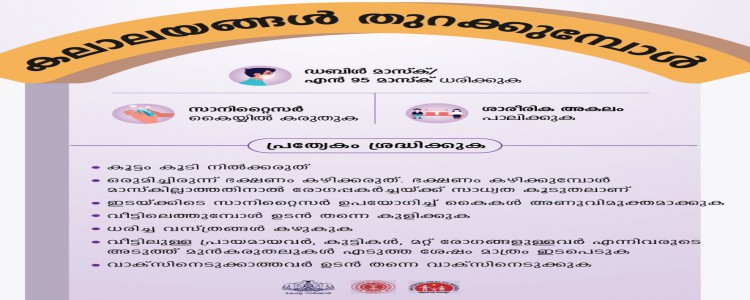 School reopening poster
The poster is on the precautions one should take while going to school or college. Use of double mask/ N95, sanitisers and distancing are advocated. Also other precautions like having food and taking bath after reaching home, washing clothes. Interaction with elders, getting vaccinated are also advocated.
Uploaded Date
12-Oct-2021
COVID-19
RCCE
Back to school
CAB
Kerala
Malayalam

The video explains about how a person should practice CAB whil...

156 views

4 downloads

Malayalam

TV PSA

The animation shows two children sharing their joy at going ba...

141 views

4 downloads

Malayalam

TV PSA

Be the Warrior shows ancient martial art form of Kerala - Kala...

159 views

0 downloads

Malayalam

TV PSA


130 views

2 downloads

English

N/A

The newspaper ad speaks about the importance of COVID-19 vacci...

155 views

0 downloads

English

Print Advert